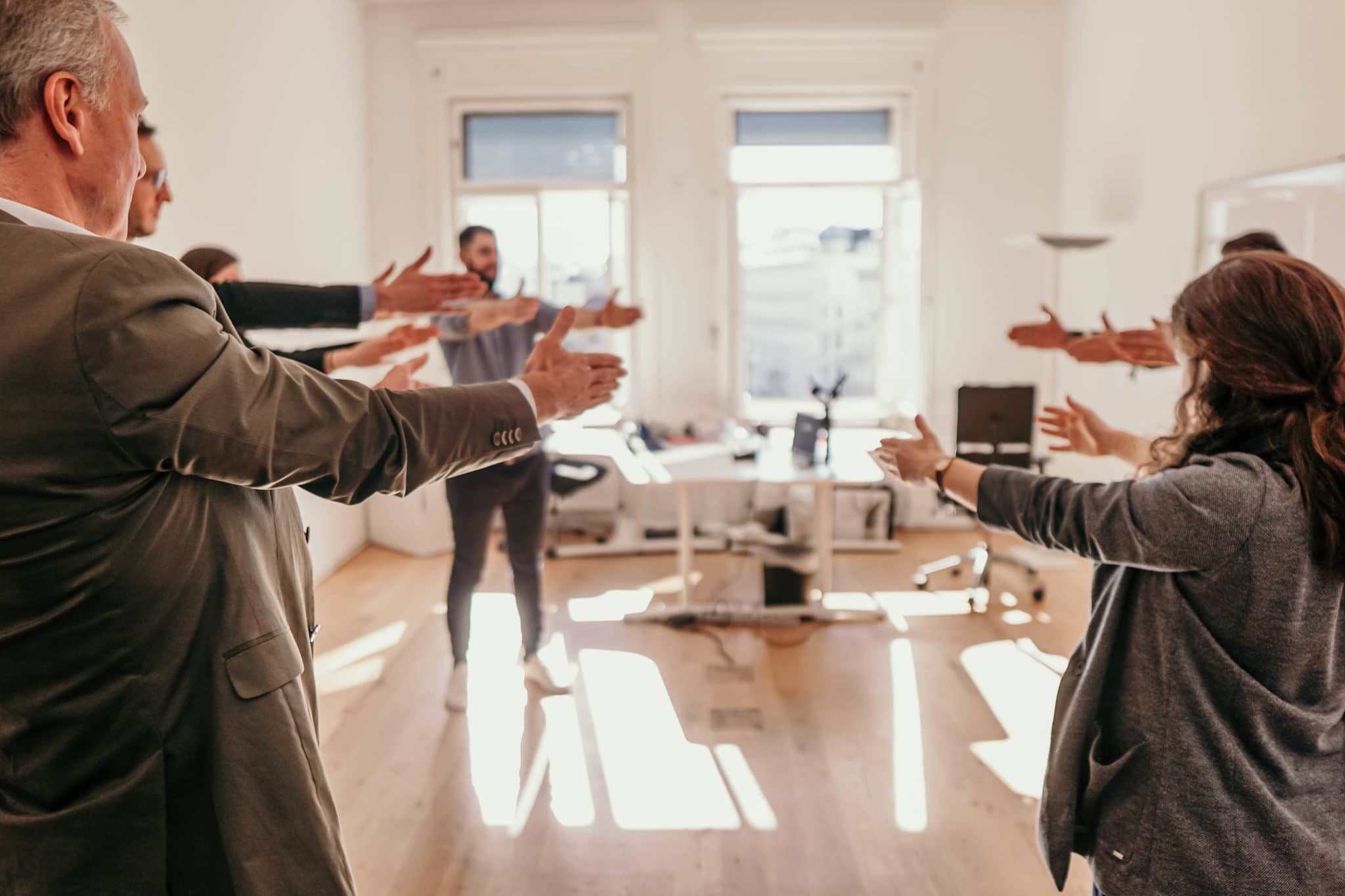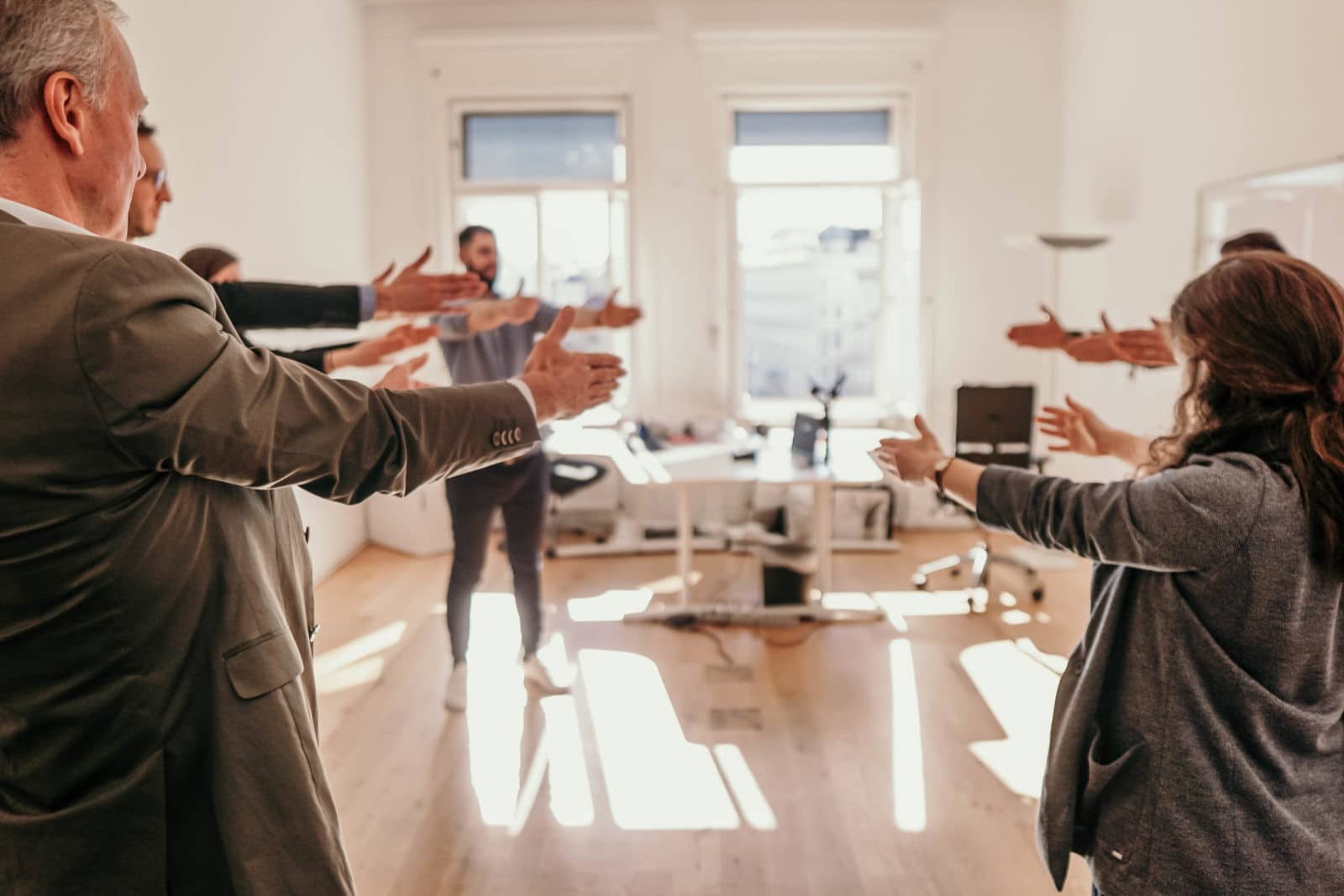 We train your employees on-site at your company or online. With individually tailored programs - for beginners and advanced learners.
Our professional trainers will train you and your team on-site at your company. Our program in office or sports attire is individually tailored to the wishes of the participants and is suitable for both beginners and advanced.
Live from our studio in Vienna, we support all employees at headquarters, in the branch offices, in the field or in the home office - everyone can participate in the training sessions regardless of their location.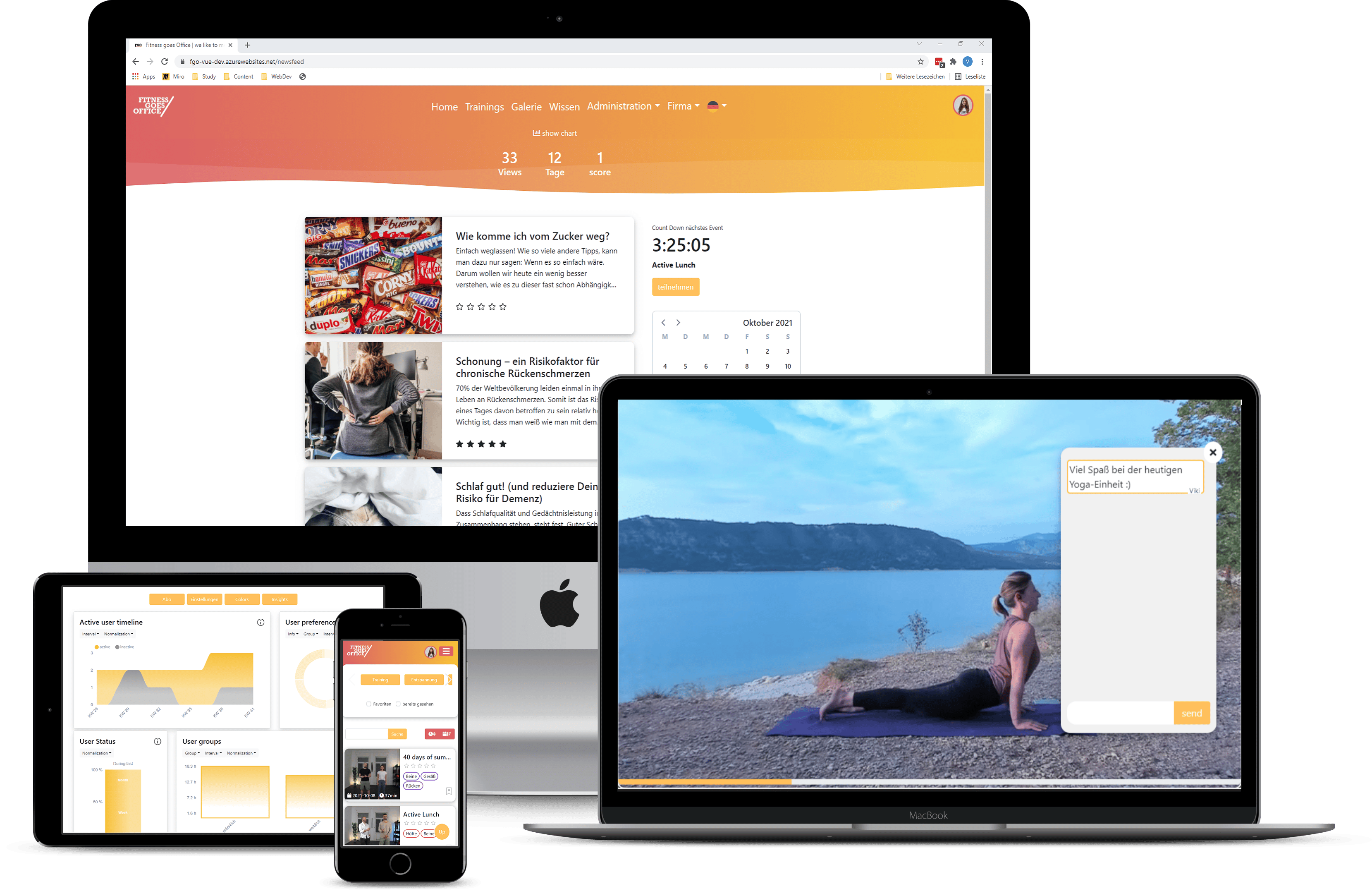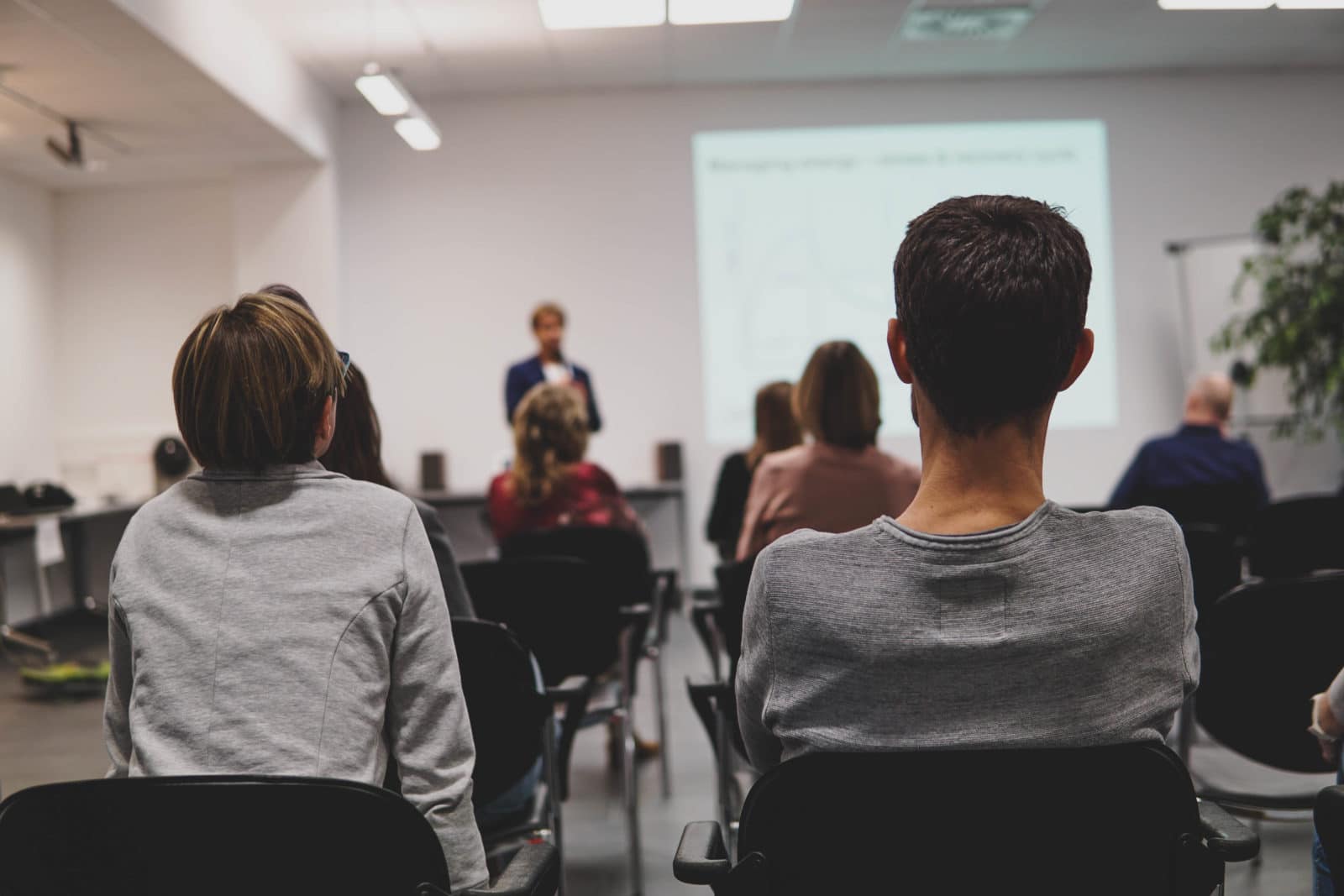 In interesting lectures and workshops we impart practical knowledge on various health topics: Exercise, Nutrition, Sleep, Brain, Immune System, Microbiome etc.
The lectures can be held directly in your company or live via Zoom, MS Teams, etc.
For your team-building event, participation in running events or for health days, we offer various focuses that are tailored to the needs and interests of the company.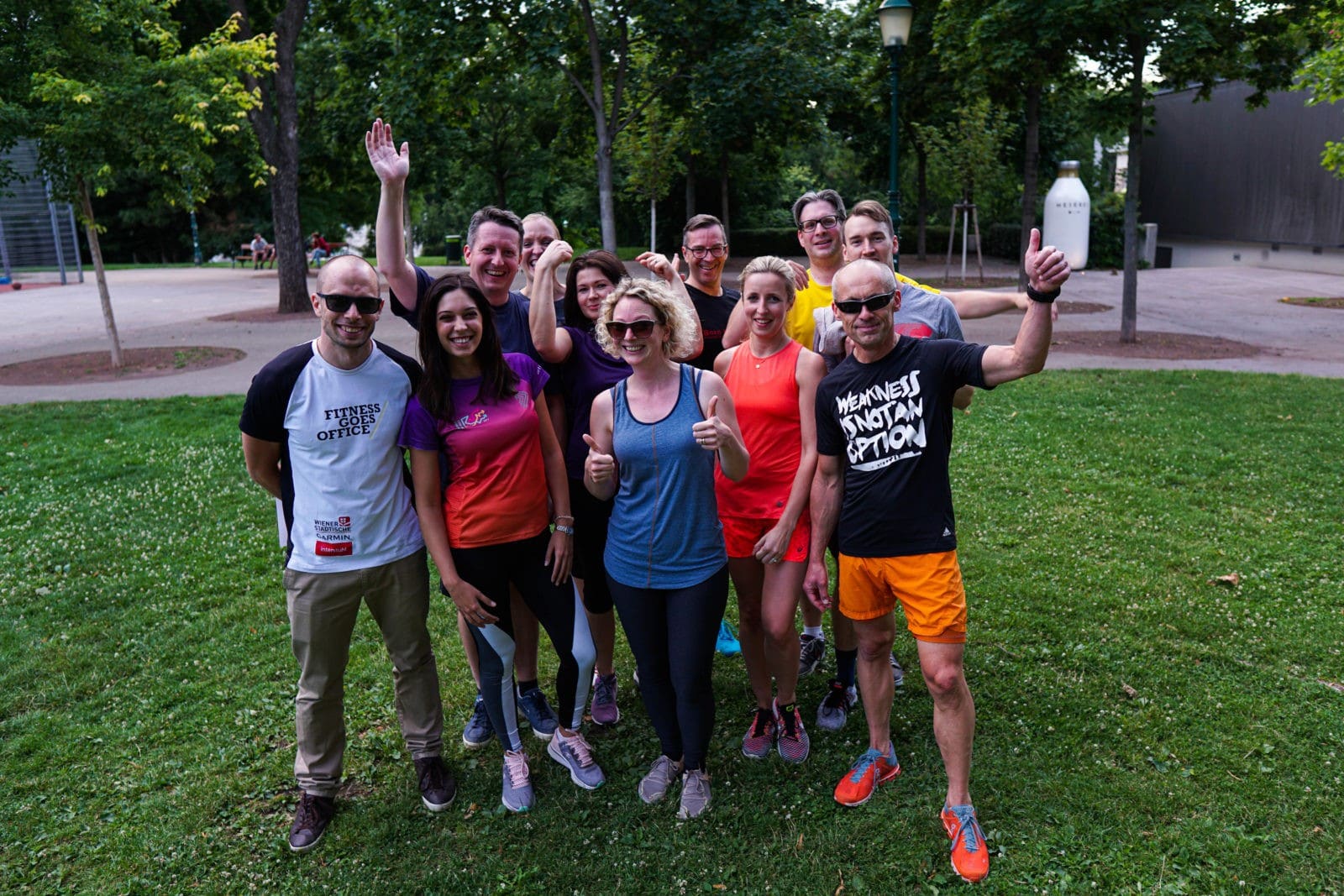 THIS IS HOW YOU BENEFIT FROM COMPANY FITNESS WITH US

ANNUAL PLANNING AND ANALYSIS
Together with the project management, FitnessGoesOffice creates an annual plan for your company. Each quarter we define a new focus (e.g. back, nutrition, stress, endurance, etc.). This makes it easier to reach different target groups and to set regular motivation and communication measures.

MOTIVATION AND COMMUNICATION
We are there for everyone: FitnessGoesOffice takes care of the ongoing communication of the content and benefits of the company fitness program to all employees* as well as the regular motivation of all participants*.

PROFESSIONAL AND SYMPATHETIC COACHES
All FitnessGoesOffice trainers are professionally trained in sports and/or nutrition. They will put your company in a good mood and respond to individual questions and interests.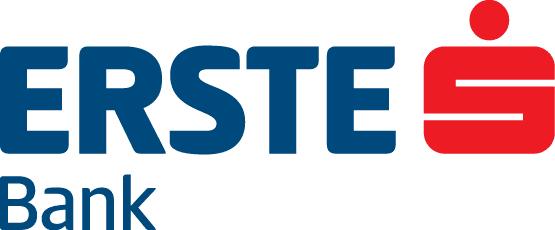 DR.IN EVA HÖLTL, ERSTE BANK
The goal of ERSTE Bank's health center is to provide employees with as many preventive health-promoting offers as possible. For the area of exercise, we have found a professional partner with many years of experience in FitnessGoesOffice. Colleagues enjoy circuit training, experience community and can do something for their health with little time investment.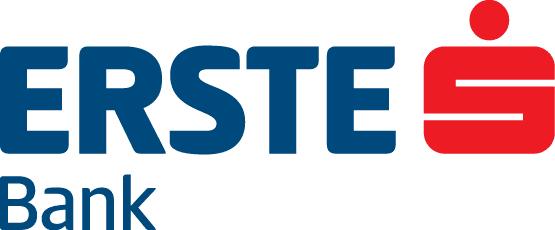 MAG. PETER ANZELETTI-REIKL DEPUTY CHAIRMAN OF THE WORKS COUNCIL CHAIRMAN OF THE WORKS COUNCIL RAIFFEISEN BANK INTERNATIONAL AG
Sympathetic and professional: FGO kept many employees fit during the Corona crisis with the digital go-home offer - and will continue to be a strong partner for both our on-site and home-office offers in the future.


DR.IN BARBARA RANGETINER, MANAGING DIRECTOR OCTAPHARMA
We very much appreciate the cooperation with Fitness Goes Office, as it enables us to offer our employees a variety of sports activities on a daily basis. With the help of this preventive concept, it is possible for everyone to do something for their own health, while at the same time reducing absenteeism.


MARTIN MADLO, MBA MANAGING DIRECTOR INTERXION ÖSTERREICH GMBH
Perfect format for doing something for your health both remotely in person and on demand with little effort. Our employees really appreciate this service, especially in times of Corona, and show great willingness to participate and motivation.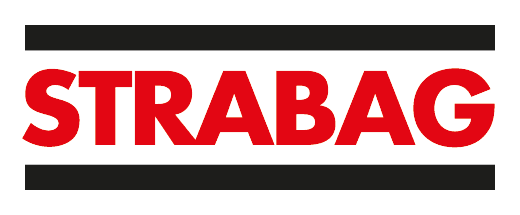 DR. LUKAS KÜSTER, COORDINATOR OF OCCUPATIONAL HEALTH MANAGEMENT AT STRABAG
Everything from a single source: FitnessGoesOffice offers many BGM services on various topics from a single source, thus addressing different target groups in the company with videos, lectures and workshops.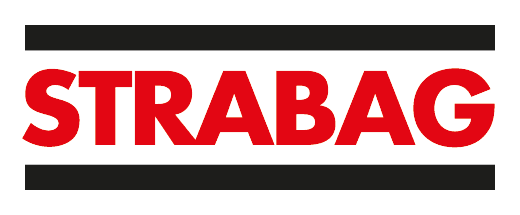 HUMAN RESOURCES BOEHRINGER INGELHEIM
Create incentives to improve your own health with a variety of fitness offers - an appealing and diverse range from a single source!


SANOFI
In the cooperation with FitnessGoesOffice, it is most important for us that all our employees are reached. FitnessGoesOffice manages to represent the different interests of the employees through the various measures and programmes at different times and thus to address all groups.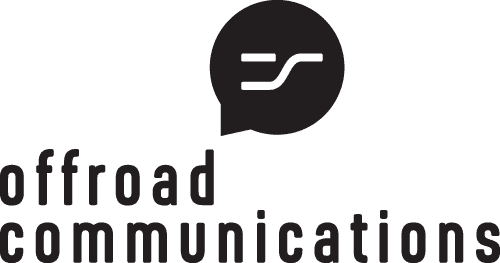 RAPHAEL REMHOF, MBA, OFFROAD COMMUNICATIONS
FitnessGoesOffice is really top notch and our team loves it. We started using it just before the Corona pandemic and just in the last 2 years it has not only kept us fitter and more motivated, but also strengthened the team feeling and cooperation.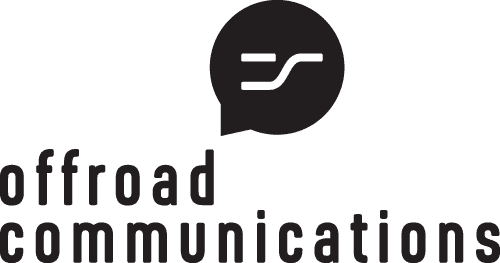 Our corporate fitness program offers comprehensive services to promote employee health.
Whether on-site at your office, on the road, or in your home office, our products are tailored to your individual needs.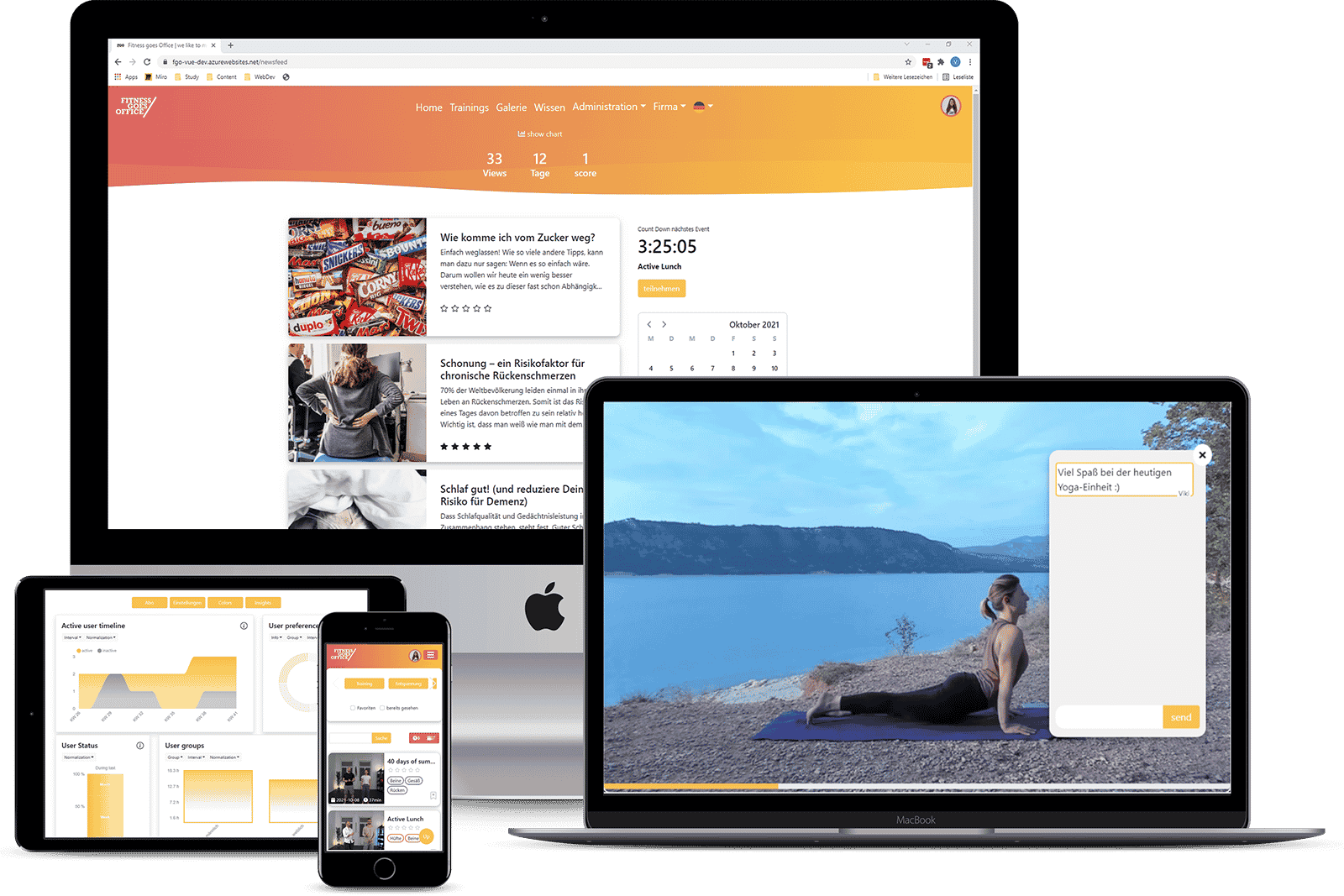 COMPANY FITNESS - HOME OFFICE
Our health platform offers your team over 1000 video workouts, interesting blog articles as well as support from our coaches.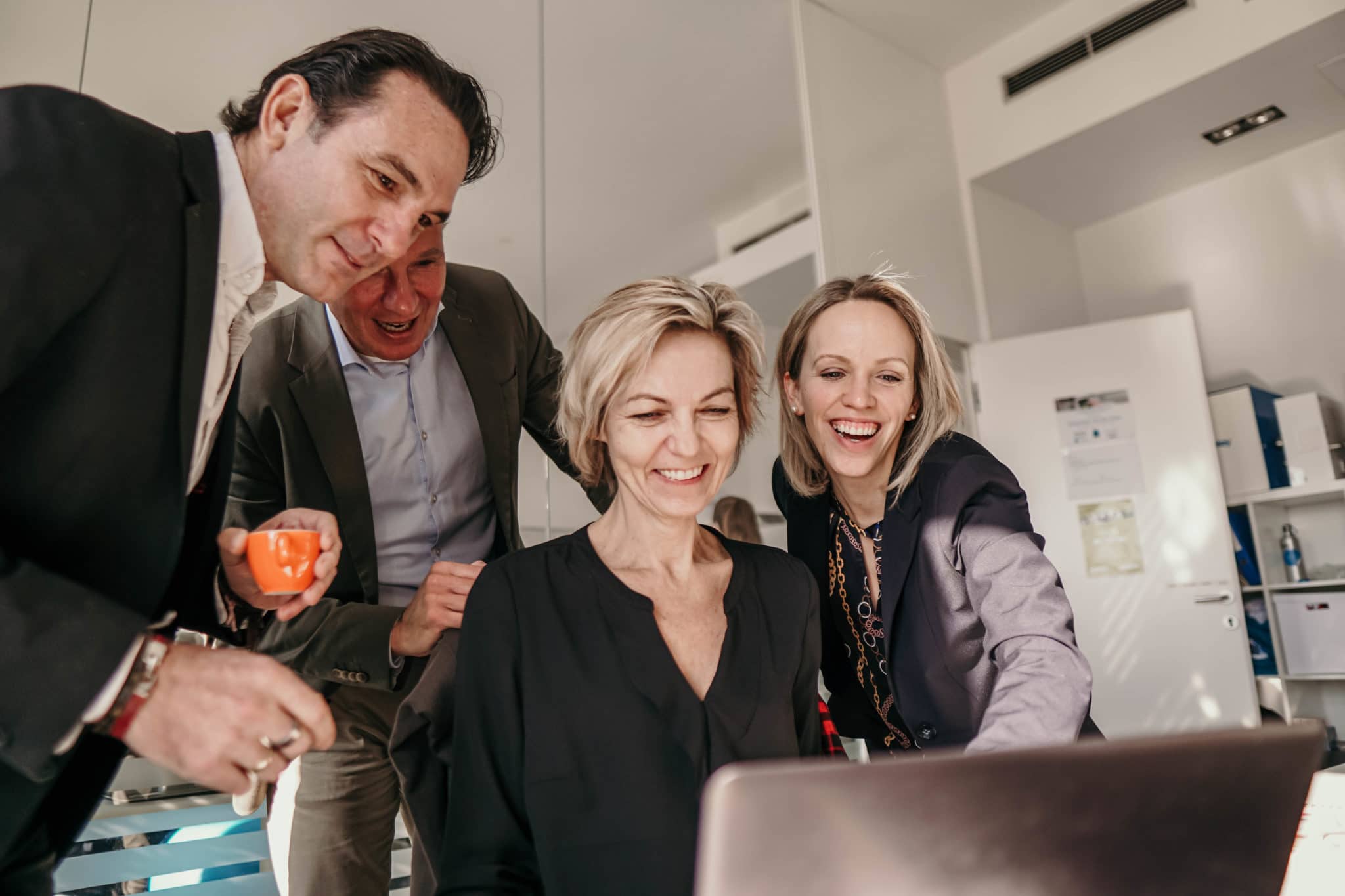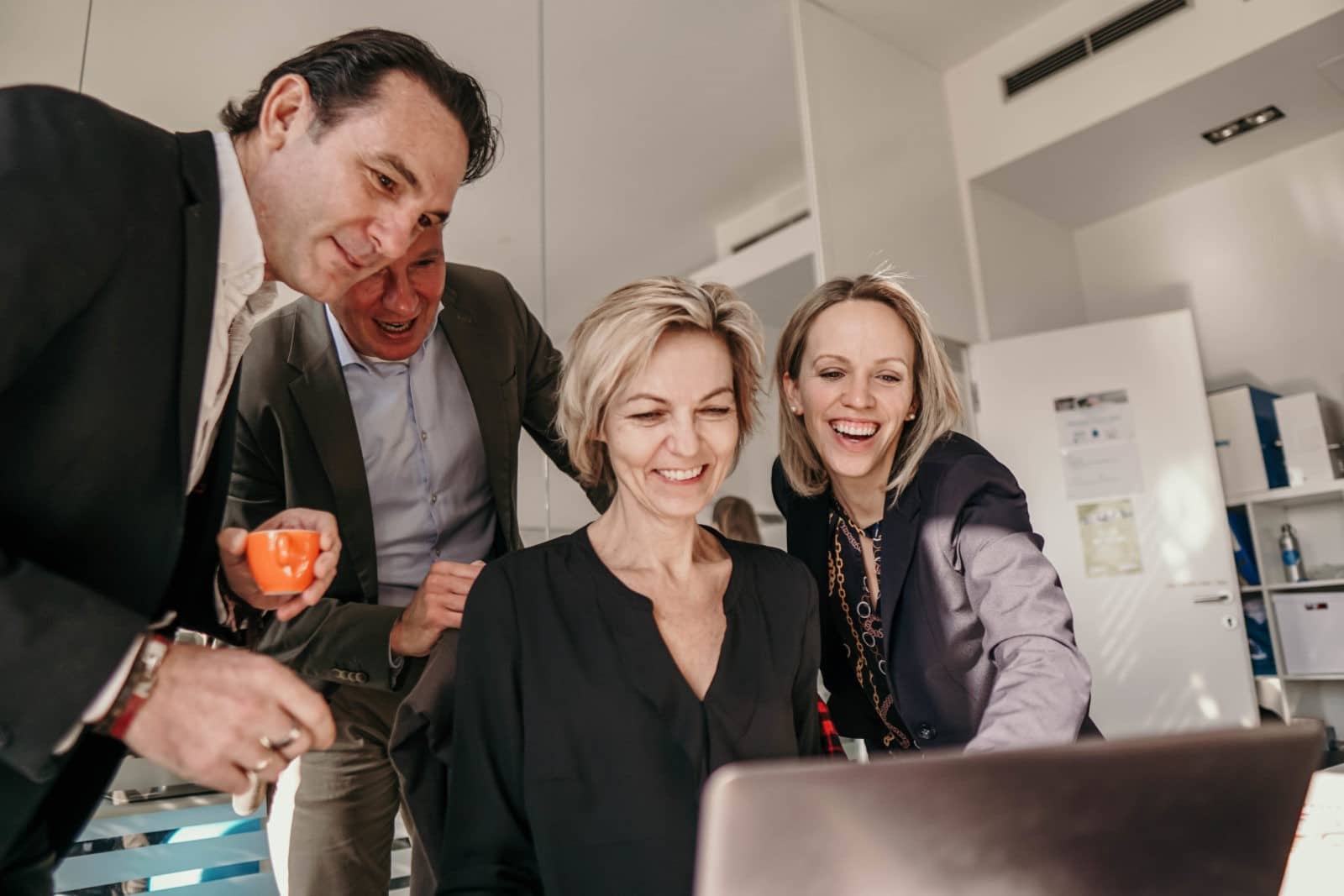 Company fitness - The total package
Planning, implementation, analysis, adaptation of programs - together we put together the optimal overall package for your company.
We serve companies from all industries throughout Austria. Whether in Vienna, Lower Austria, Burgenland, Upper Austria, Styria, Salzburg, Carinthia, Tyrol, Vorarlberg - FitnessGoesOffice is there for everyone!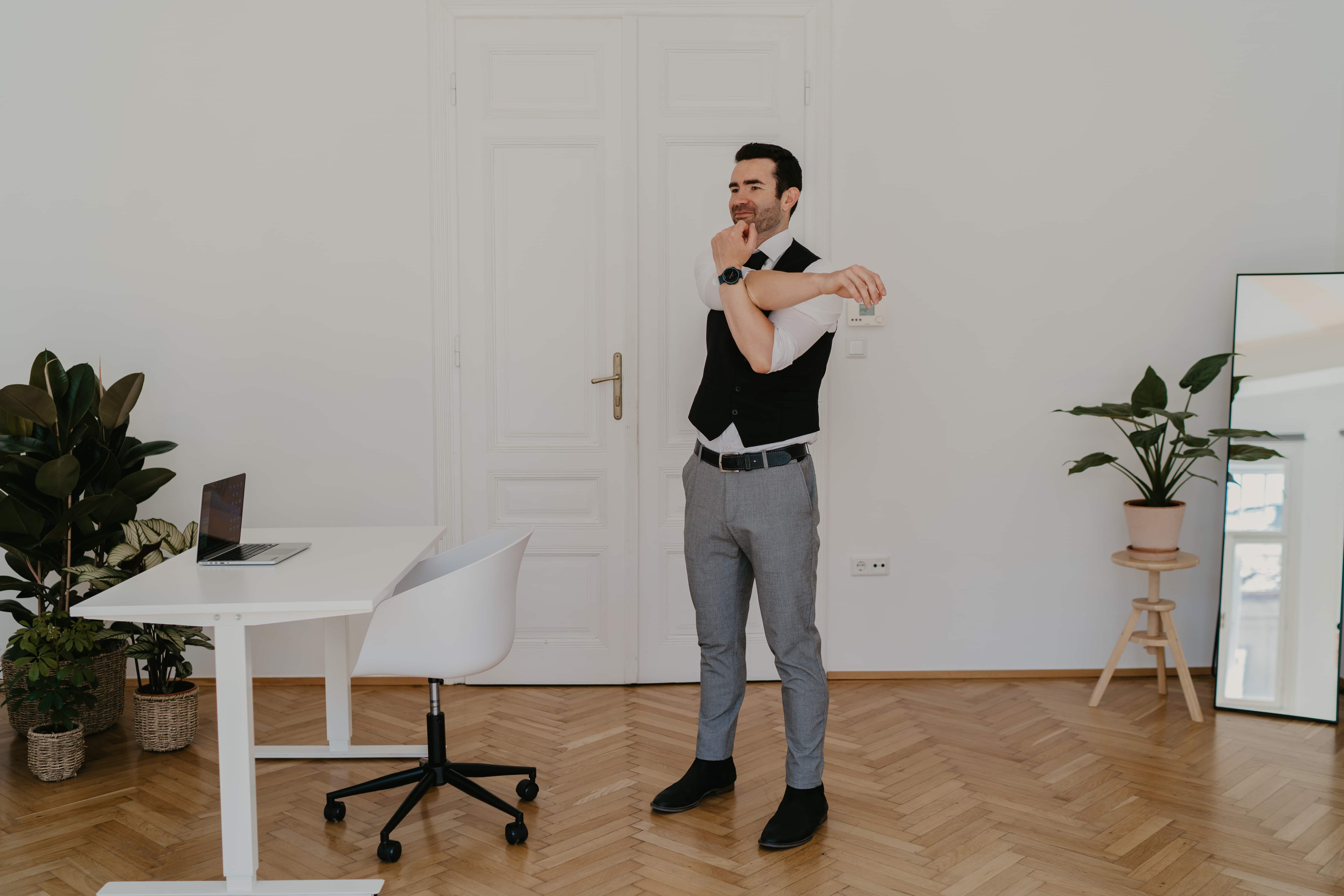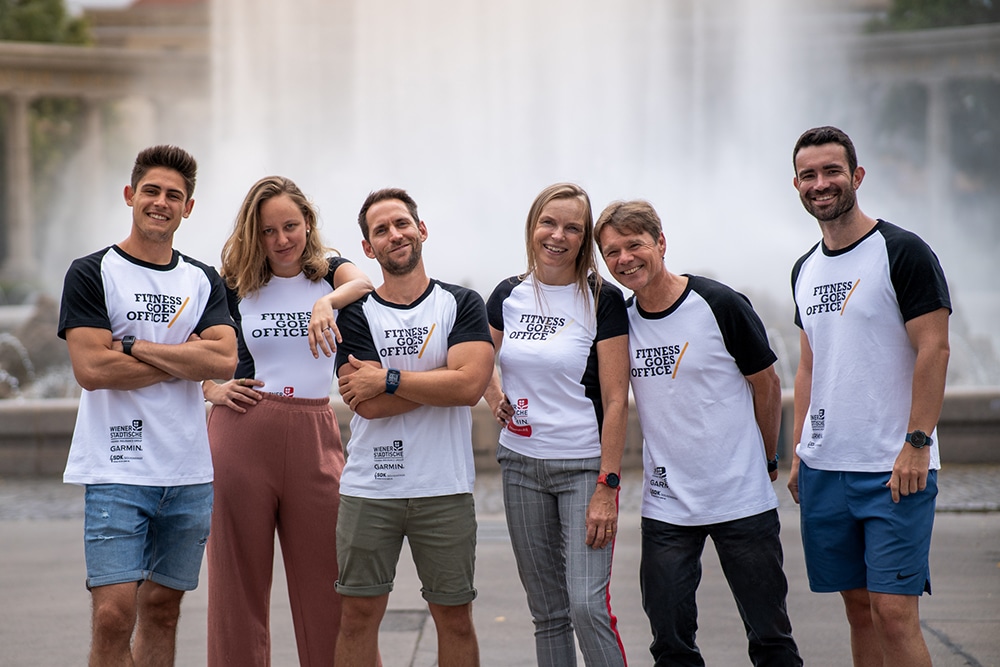 We are a team of successful entrepreneurs, experienced trainers, physiotherapists, and sports and nutrition scientists. We know the needs of our customers and work with pleasure to accompany you on your way to a healthy and satisfied everyday life.
Get to know the company fitness concept of FitnessGoesOffice: We would be pleased to present you our programs as well as the implementation for your employees*!